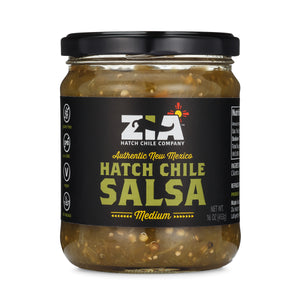 Zia Hatch Chile Salsa (MEDIUM)
Sale price Price $ 11.99 Regular price $ 0.00
Brand: Zia Green Chile Company
Features:
Zia Hatch Chile Salsa is made with a selection of handpicked chile straight from our network of multi-generational family-owned farms. The perfect and best introduction into the flavors of New Mexico's Hatch Valley--let this be your gateway to discovering the most enchanting and versatile chile pepper in the nation.
Now you can add a touch of spicy, smoke kissed flavor to all your dishes with the Zia original New Mexico Hatch Valley green chile salsa. Taste the real southwestern experience.
Grown in the Hatch Valley of New Mexico, along the legendary Rio Grande river, Zia's delicious and hand-picked Hatch green chiles are New Mexico certified, non-GMO, Gluten-Free, vegan and vegetarian. Get ready to experience the true authentic taste difference!
Looking to surprise your loved ones who love the intoxicating taste of chile peppers? The Zia original Hatch green chiles will offer them that emblematic sweet, crisp and smoky taste of New Mexico chiles. A classic winner for any chile aficionado!
We take great pride in harvesting delicious Hatch Valley chiles from our New Mexico farms. That's why we back our roasted chile peppers with our no-questions-asked full money back guarantee! Experience the authentic taste, of the southwest, while supplies last!
Publisher: Zia Green Chile Company
Details:
Discover The Smoke-Kissed Flavor Of Original New Mexico Hatch Chiles!
Along the banks of the Rio Grande River in New Mexico a special type of green pepper has been grown for decades. The Hatch Valley chile pepper is world-renowned for its distinct flavor, fleshy taste and unique nutritional value.
We, at Zia Green Chile Company, want to offer everyone a taste of this flame-roasted flavor, that's why we grow and harvest delicious and healthy Hatch green chile peppers.
Add A Spicy Twist To All Your Favorite Recipes!
Our roasted, peeled and diced Hatch green chile peppers can be used in all your favorite recipes to add an addictive spicy, smoky and crisp flavor.
Perfect for your enchiladas, salads, dips, sandwiches, tortillas, burritos, soups, pork or beef stews and all other recipes, our Gluten-Free and vegetarian Hatch chiles will surely enhance your favorite dishes!
Nutritional & Delicious Hatch Green Chile Peppers!
Zia's New Mexico Certified Hatch Valley chiles are extremely rich in Vitamins such as Vitamin A, C, E and K as well as essential minerals, including Zinc, Calcium, Magnesium and Iron.
Plus, our green chiles are produced without any artificial preservatives, additives and they are non-GMO for your maximum safety.
The True Taste Of The Southwest!
The dry climate, high altitude and rich soil of the Rio Grande valley make the perfect terroir for original Hatch green chiles, that's why it's considered the Chile Capital of the World.
And we make sure that you get only the tastiest Hatch chiles straight from New Mexico to your kitchen countertop!
Indulge Yourself Now! Embark On A New Savory Adventure Today!
UPC: 861790000270
EAN: 861790000270
Package Dimensions: 6.0 x 4.0 x 4.0 inches